ET RIKSPORTRETT / A PORTRAIT OF THE NATION, 2012-2014
Project-based work.

On the occasion of the 2014 bicentennial of the Norwegian constitution, the artist Trond Hugo Haugen made several new portraits of the nation. The artist's starting point was found in the iconic painting Eidsvold 1814 (1885) by Oscar Wergeland. The painting shows the 112 representatives in the Constituent Assembly who established and adopted the Norwegian Constitution in 1814. The painting is a famous picture which represents Norway becoming an independent country. Around 70 of the 112 delegates that were present are painted in enough detail to be identified.

The main work, the photograph A Portrait of a Nation (after Eidsvold 1814), is a statistically correct representation of contemporary Norway. The Norwegian population has been scaled down to 112 people to match the number of representatives present in 1814. The photograph represents Norway in 2014 to cover gender, age, ethnicity, occupation, belief and sexual orientation and so on.

"The people in the photograph are us. 112 of us, the same as the number of representativesin that first constitutional assembly, as shown in Oscar Wergeland's painting from 1885, but the people in the photograph represent Norway in 2014. We are as many women as men, 57 of us are working age, two unemployed, six students. Only one farmer. Most of us are ethnic Norwegians, 13 with immigrant backgrounds, most from Poland. One is Saami. Six are queer, one is pregnant. The people in the photograph live in Norway."

Please see www.riksportrett.no for more information (site in Norwegian).

Photo: André Severin Johansen, Istvan Virag, Alette Schei Rørvik, Øystein Thorvaldsen, Trond Hugo Haugen
Produced by Trond Hugo Haugen with Public Art Norway. Co-producer: Akershus Kunstsenter. Supported by Fritt Ord and KORO. In collabiration with Eidsvoll 1814, Rom Eiendom, Folk & Film, Postproduksjon and Megaprint.

Essay by Leif Magne Tangen
Portrait of the Nation Catalog: Essay by Hege Skjeie and Knut Ljøgodt.
1814 Revisited Catalog: Essays by Kjetil Røed, Arve Kleiva, Vanessa Place and Espen Stueland.
NRK (The Norwegian Broadcasting Corporation) Nasjonalgalleriet, 17 March 2014

A Portrait of a Nation (after Eidsvold 1814) was made to the exhibition 1814 Revisited - The Past Is Still Present, curator Rikke Komissar / Akershus Kunstsenter.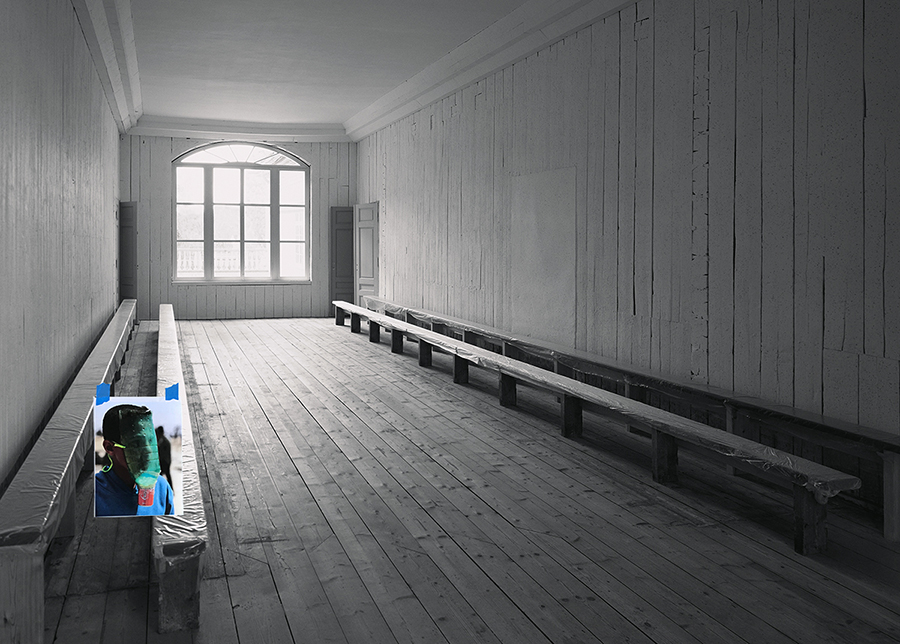 Et riksportrett (Mazen Al-Najar) / A Portrait of a Nation (Mazen Al-Najar), 2018
Collage, photography, 167x120 cm. Unique.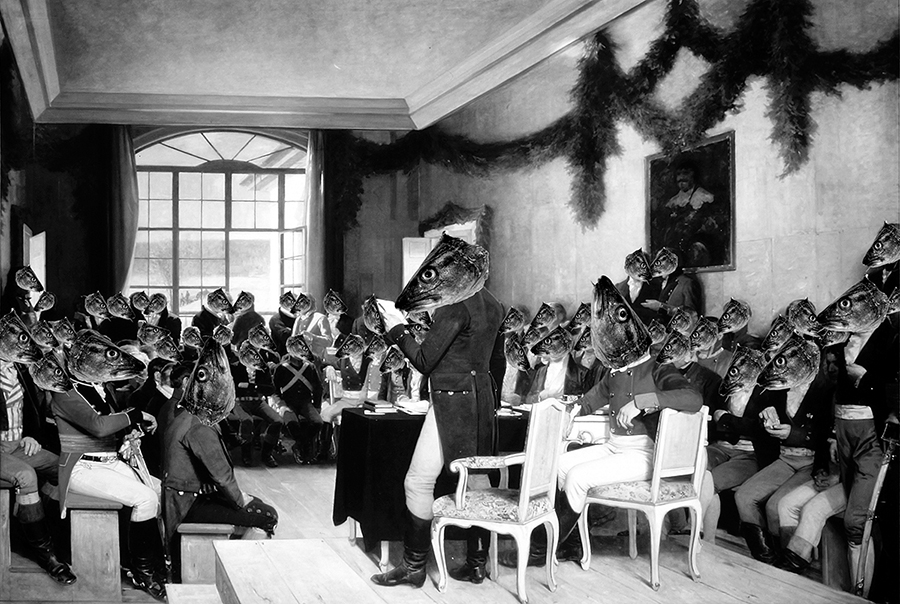 Et riksportrett (Torskehoder) / A Portrait of a Nation (Cod Heads), 2014
Collage, variable size. Editon: 3/3+1AP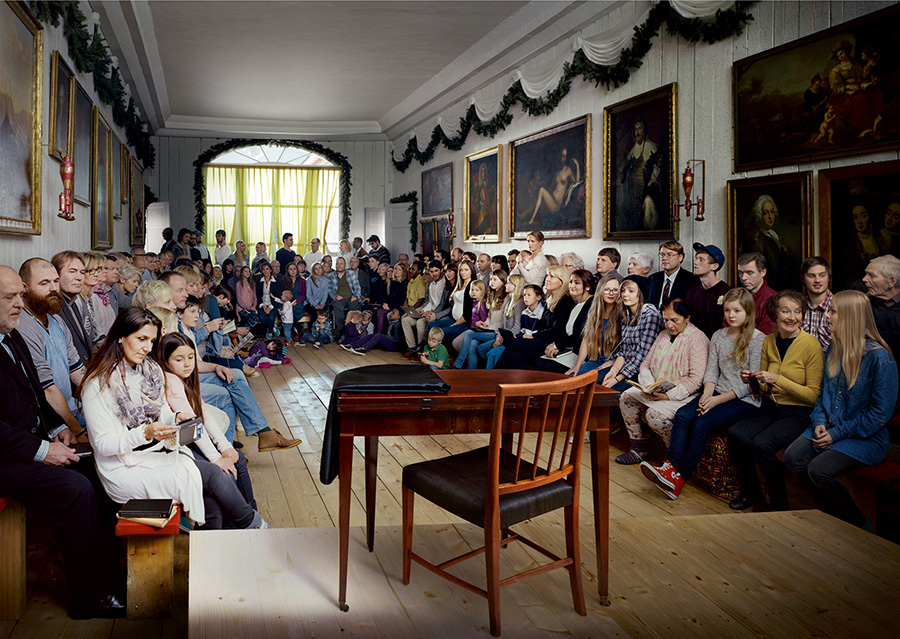 Et riksportrett (etter Eidsvold 1814) / A Portrait of a Nation (after Eidsvold 1814), 2014
Color photography, Edition 1+1AP 300x213 cm. Courtesy of the artist and Stavanger Art Museum.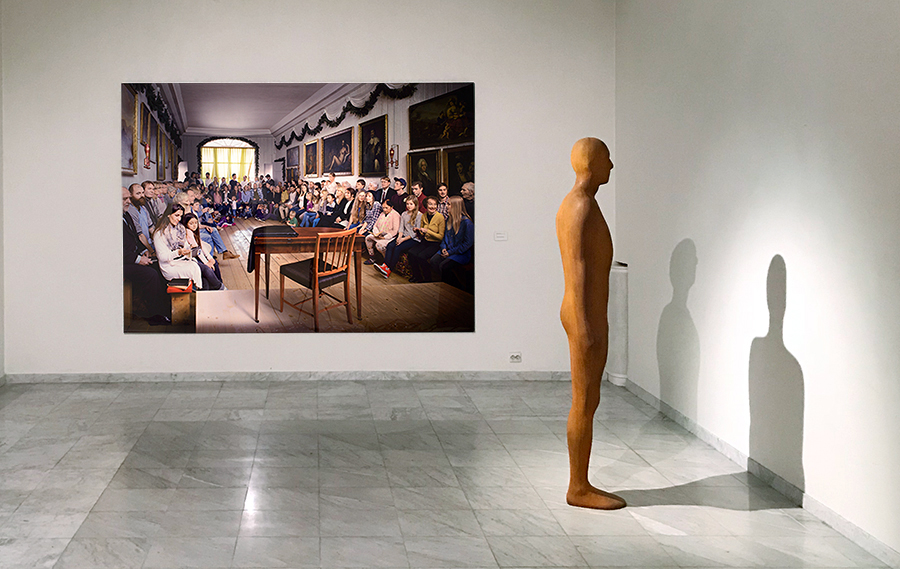 Et riksportrett (etter Eidsvold 1814) / A Portrait of a Nation (after Eidsvold 1814), 2014
On view at Stavanger Art Museum, April 2018 / August 2018.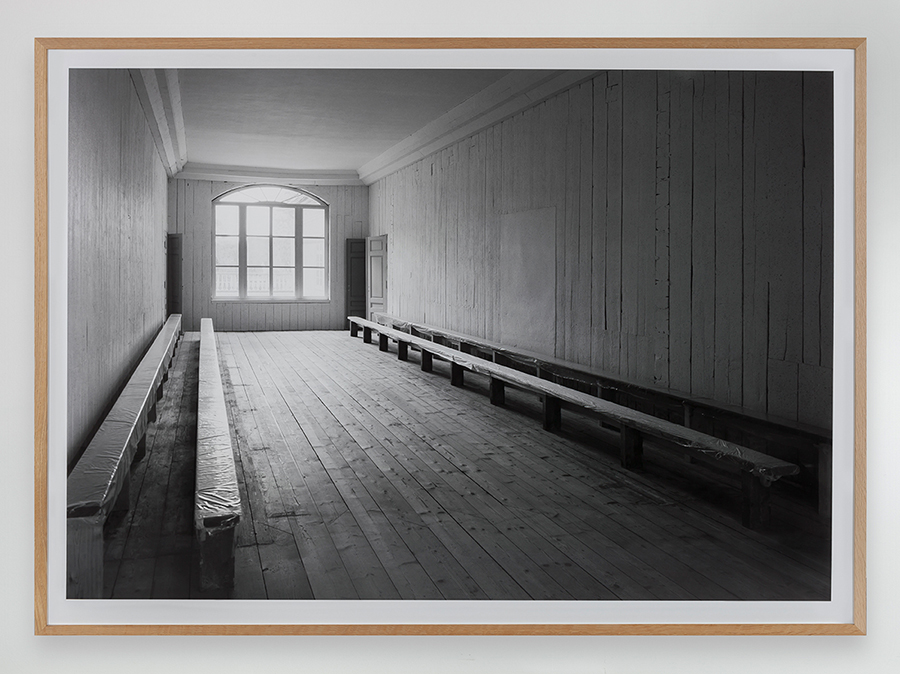 Et riksportrett (Rikssalen) / A Portrait of a Nation (the Constituent Assembly), 2014
B/W photography, 167x120 cm (181x135 cm framed). Edition 3+1AP. Courtesy of the artist and Oslo municipality's art collection.<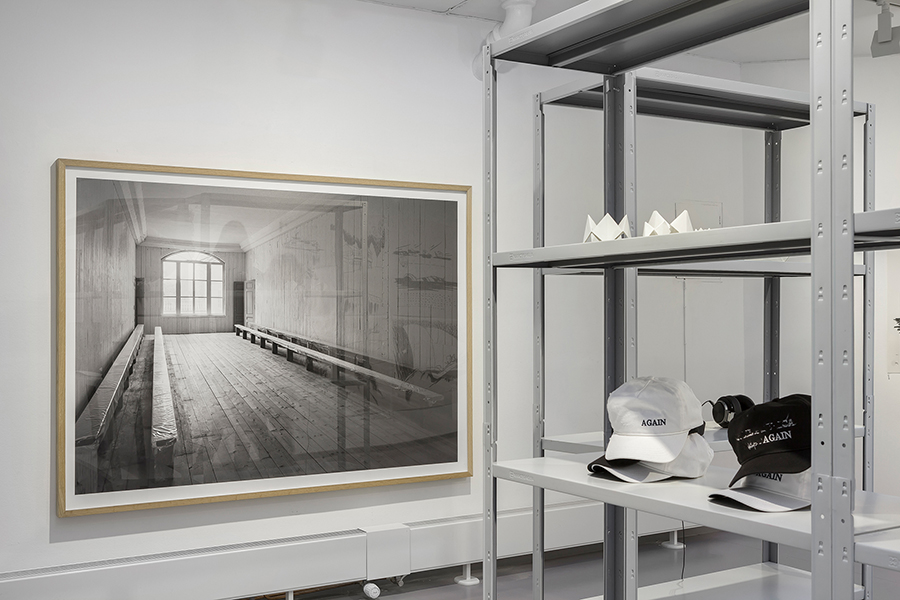 Et riksportrett (Rikssalen) / A Portrait of a Nation (the Constituent Assembly), 2014
Exhibition view from the exhibition UTTAK (Selection) at Tegnerforbundet in Oslo 09.02.–12.03.2017 with selected works from 2014-2017.
Photo: Øystein Thorvaldsen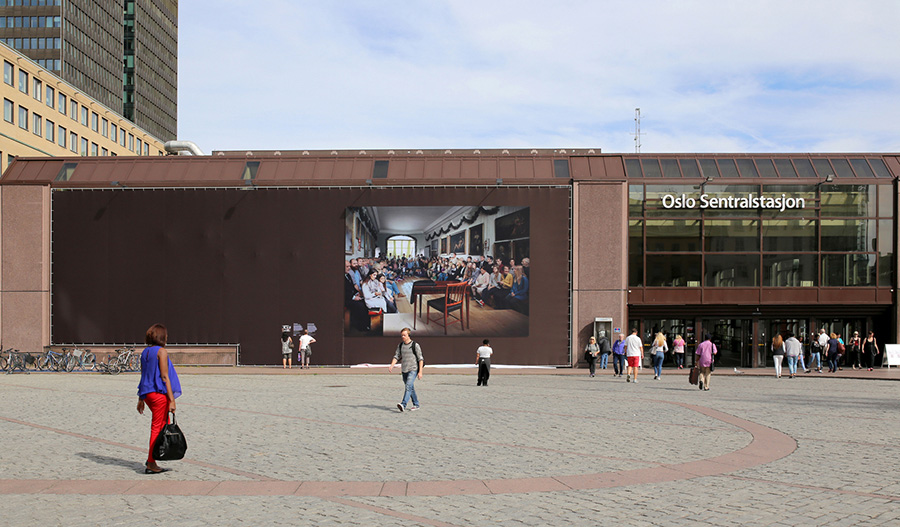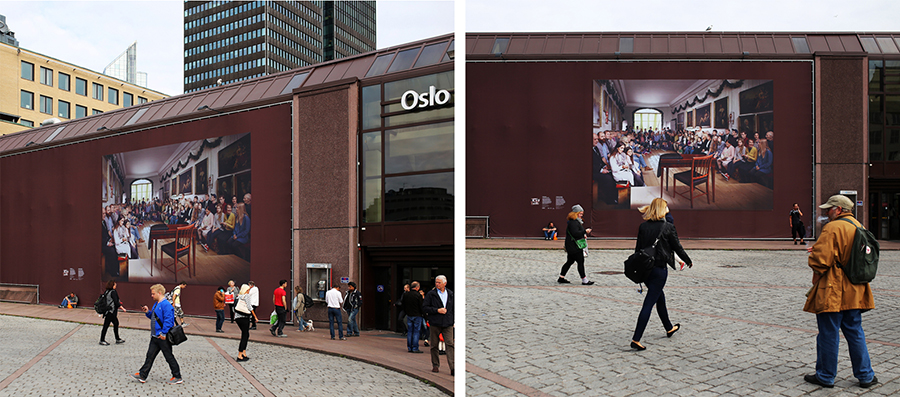 Et riksportrett (etter Eidsvold 1814) / A Portrait of a Nation (after Eidsvold 1814), 2014
From the exhibiton Et riksportrett (etter Eidsvold 1814) at Oslo S.
Photo: Alette Schei Rørvik / KORO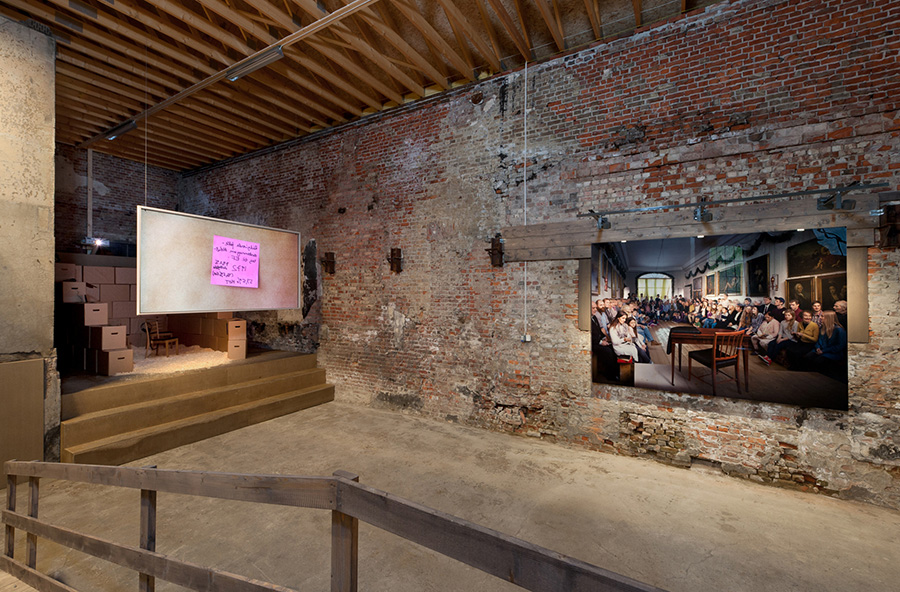 Et riksportrett (etter Eidsvold 1814) / A Portrait of a Nation (after Eidsvold 1814), 2014
Installation view from the exhibition 1814 REVISITED – The Past Is Still Present, Eidsvoll Verk / Akershus Kunstsenter.
To the left: Lene Berg. Group show with Kjersti G. Andvig, Lars Lauman, Ahmad Ghossein, Ane Mette Hol, Lars Ramberg, Merete Røstad, Artur Zmijewski, Charlotte Thiis-Evensen and more.
Photo: Istvan Viragr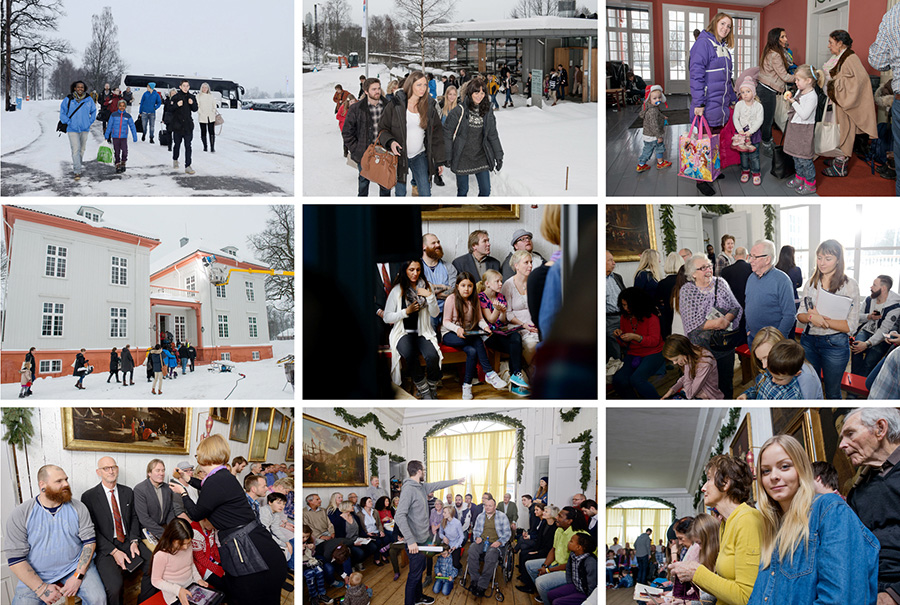 Et riksportrett (etter Eidsvold 1814) / A Portrait of a Nation (after Eidsvold 1814), 2014
From the shooting in Rikssalen, Eidsvoll House (Eidsvollsbygningen), FEB 2014.
Photo: Istvan Viragr / Akershus Kunstsenter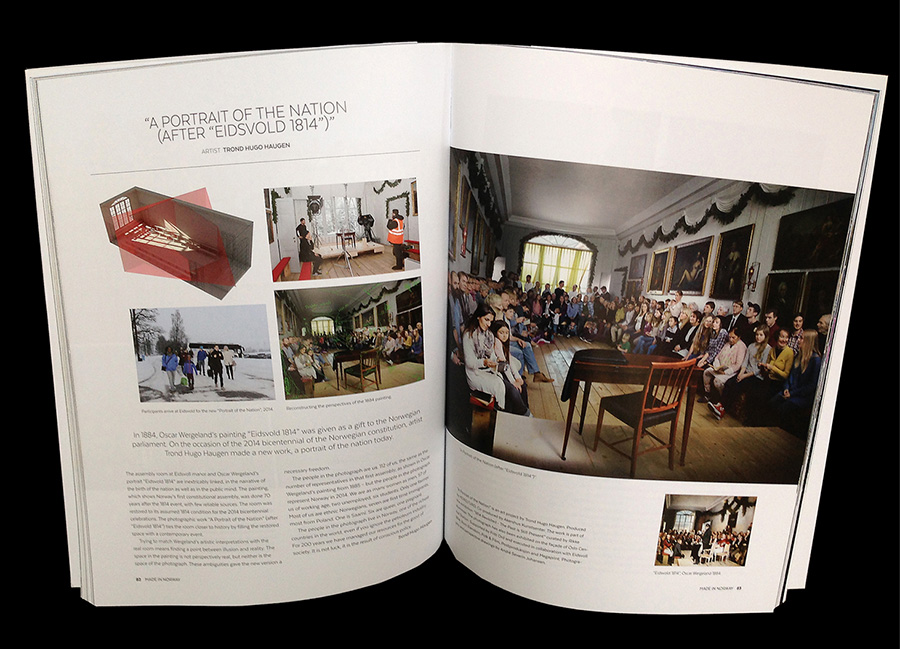 Et riksportrett (etter Eidsvold 1814) / A Portrait of a Nation (after Eidsvold 1814), 2014
From the book Made in Norway. New Norwegian Architecture (2016). The publication documents 40 recent projects built in Norway within the last five years.
www.arkitektur.no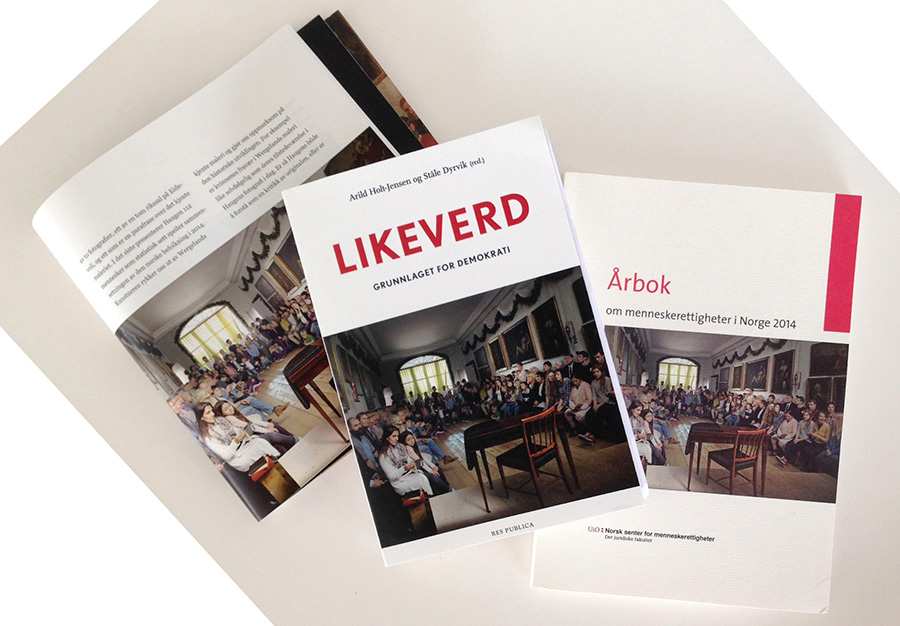 Et riksportrett (etter Eidsvold 1814) / A Portrait of a Nation (after Eidsvold 1814), 2014
Et riksportrett (etter Eidsvold 1814) published in books in 2015:
Exhibition catalog, Stortinget (The Norwegian Parliament)
Grunnlaget for demokrati, Res Publica
Årbok om menneskerettigheter i Norge 2014, Norwegian Centre for Human Rights, University of Oslo